David Leonard Renner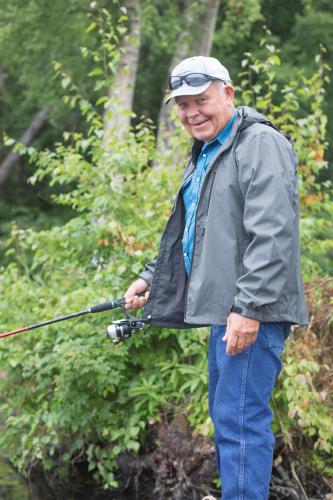 Longtime Wallace, Kansas resident David Renner, 74, passed away unexpectedly Saturday, March 17, 2018 at his home in rural Logan County. He was born September 3, 1943 in Colby, KS, son of James "Floyd" and Elnora (Moos) Renner. He grew up in Cheyenne County Colorado, attending Smokey Angle Country School, Sacred Heart Catholic Grade School and one year at Cheyenne County High School.
He served his country in the United States Navy from 1961 to 1965 as a shipfitter metalsmith aboard the USS Oriskany Aircraft Carrier. During his service, David constructed a platform that President John F. Kennedy stood on to deliver a speech while aboard the ship.
On May 13, 1967, he married Virginia Teichmer at St. Peter's Catholic Church in Wallace and together they had three sons. During their marriage they lived in Cheyenne Wells, CO, Shickley, NE, then moved to the Teichmer family farm in Kansas in 1974. He worked at Cornhusker Hog Farm and owned a bar and grill, Everybody's Place, while living in Nebraska. After moving to Kansas he owned Renner Construction and farmed and ranched. He was a member of the Holy Ghost Catholic Church in Sharon Springs, KS.
A highlight of his life was riding horseback at the age of 16 from Cheyenne Wells, CO to Cheyenne WY, round-trip, with his brother Larry and friends Nick and Adrian Mousel. The trip lasted 90 days during which the boys rode down Colorado Blvd in Denver, resulting in a law that horseback riding be banned in downtown Denver. David will be remembered fondly as an animated storyteller, an avid card and game player, seven-iron golfer, inventor who held two patents, chief political commentator, a loving husband, hands-on father and grandfather and good friend and neighbor. David didn't know a stranger and could strike up a conversation with anyone. He taught his children and grandchildren honesty, hard work and how to have fun.
Preceding him in death were his parents, brother Jim Renner, brother-in-law Paul Galli, brother-in-law Donnie Teichmer and granddaughter Kalee Renner. Surviving family includes his wife Virginia, son Jeff (Nancy) of Dodge City, KS; son Gene (Angi) of Lee's Summit, MO; son Joe (Michelle) of Oakley, KS; seven grandchildren Jacob Renner Clark, Nathan Renner, Ryan Renner, Alison Renner, Payton Renner, Jada Renner and Levi Renner; and two great grandchildren Max and Berkeley Clark; brothers Larry, Murry (Carol), Roger (Hope); sisters Rosie Galli and Netty Eastlake (Sparky), sister-in-law Fern Renner, brother-in-law Walt Teichmer and many other family and friends.
A Mass of Christian Burial will be held on Friday, March 23, 2018 at 10:00 AM MT at the Holy Ghost Catholic Church in Sharon Springs, with Father Norbert Dlabal and Father Andrew Rockers officiating. Burial with Military Honors will follow in the Wallace Cemetery, Wallace, Kansas.
Visitation will be held on Thursday, March 22, 2018 from 5:00 to 7:00 PM MT at the Koons-Russell Funeral Home in Sharon Springs. A Vigil and Rosary Service will begin at 7:00 PM MT at the Funeral Home.
Memorial contributions are designated to the Holy Ghost Catholic Church and may be left at the services or mailed to Koons-Russell Funeral Home, 211 N. Main Ave., Goodland, KS 67735.
Online condolences for the family may be left at www.koonsrussellfuneralhome.com.
Funeral services are entrusted to Koons-Russell Funeral Home in Sharon Springs, Kansas.