Jesse Lee Craft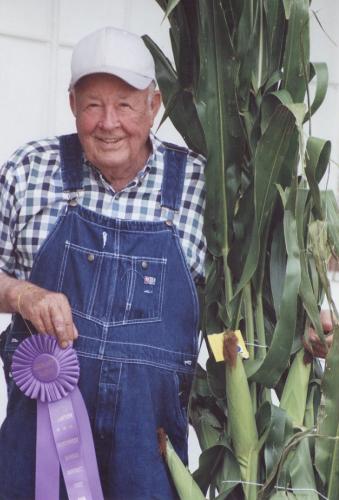 Lifelong Sherman County and Wallace County farmer Jesse Lee Craft, 87, passed away on Friday, April 13, 2018 at his home in Goodland, Kansas.
He was born on January 5, 1931 in rural Sherman County, to Everett and Elva (Dillinger) Craft. He married Doris Sieck on August 8, 1948 in Goodland. They started farming just two miles from where they both grew up. They were blessed with three daughters, Shirley, Karen and Marsha.
Jesse loved farming, but as he always said, "we had our ups and downs". He served his community and was involved and served on many different state and local boards. He especially liked anything that involved young ones, 4-H, sports, etc.
Preceding him in death were his parents, his brother Darrell Craft and his wife Connie, and an infant great grandchild Hadley Grace Schilling.
He is survived by his wife of 69 years Doris, of the home in Goodland, his three daughters Shirley (Ron) Busse of Edson, Kansas, Karen (Les) Lampe of Shawnee, Kansas and Marsha (Ron) Schilling of Edson, KS; eight grandchildren, Justin (Amity) Ihrig, John (Tisha) Ihrig, Jessica (Tom) Nittler, Anne (Nate) Rahmeier, Paul Lampe, Cash (Amanda) Schilling, Chance (Emily) Schilling and Clay (Kaycie) Schilling, seventeen great grandchildren, and many nieces, nephews, cousins and friends.
Memorial services for Jesse will be held on Thursday, April 19, 2018 at 2:00 PM MT at the United Methodist Church in Goodland with Pastor Zach Anderson and Pastor Brent Flanders officiating. Inurnment will be held at a later date in the Goodland Cemetery. The family would like to invite everyone to the Methodist Church Fellowship Hall after the service for a time of fellowship and refreshments.
In Lieu of Flowers, memorial contributions may be designated to the NWKS Shrine Club or to the United Methodist Church in Goodland and may be left at the services or mailed to Koons-Russell Funeral Home, 211 N. Main Ave., Goodland, KS 67735.
Online condolences may be left for the family at www.koonsrussellfuneralhome.com.
Service arrangements have been entrusted to Koons-Russell Funeral Home in Goodland.