James Thomas Stewart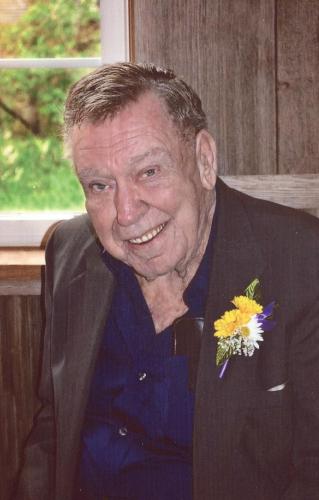 James Thomas Stewart (Jim Tom or Jim) was born on April 8th, 1927 in Childress, Texas to Dyas Vernon and Ola Jewell Stewart. He grew up in Tyler, Texas. Jim passed away on Monday, November 13, 2017 at his home in Goodland with his family by his side.
Jim joined the Merchant Marines and MSTS at the age of 17 and served from 1943 through 1945. He then moved to Tribune, Kansas with his parents in 1945. In 1949 he rejoined the Merchant Marines and MSTS and served until 1958. He traveled to 48 different countries and 43 different states before Hawaii and Alaska became states.
On September 12th 1958 he married Phyllis Goken in Leoti, Kansas. He owned a custom combining crew and did harvesting in Oklahoma and Kansas. He later sold this and started a Red-Mix business in Tribune, Kansas. He later sold this business in 1965 and moved his family to Goodland, Kansas so that he could attend school at the Vo-Tech College.
Jim went to work in 1965 at Boothroy Memorial Hospital in Goodland. He was in charge of maintenance and the boilers. He left there in 1970 to work for the Goodland Police Department until 1971. In 1971, he went to work for Consolidated Freightways until he retired in 1985. After retiring from Consolidated Freightways in 1985 he went to work driving the school bus for USD 352 until 2002.
Jim is survived his wife Phyllis of the home, 4 daughters, Brenda (Lyle) Louise Chatfield, Linda (Brian) Marie Allaman, Glenda (Russell) Michelle Smith and Kenda (Philip) Colette Bach, 11 grandchildren and 14 great grandchildren; one brother Robert Stewart, one sister-in law Mary Mae Stewart and a brother-in-law William (Denise) Goken. Also surviving him are many nieces and nephews and great nieces and great nephews.
He was preceded in death by his parents and one brother Benton Stewart.
Funeral services for Jim will be held on Thursday, November 16, 2017 at 1:30 PM MT at Koons-Russell Funeral Home in Goodland with Ryan Baty, his grandson-in-law officiating. Burial with Military Honors will follow in the Goodland Cemetery.
Visitation will be held on Wednesday, November 15, 2017 from 5:00 to 7:00 PM MT at Koons-Russell Funeral Home.
Memorials may be designated to the James Stewart Memorial Fund and may be left at the services or mailed to Koons-Russell Funeral Home, 211 N. Main Ave., Goodland, KS 67735.
Online condolences may be left at www.koonsrussellfuneralhome.com. Funeral services are entrusted to Koons-Russell Funeral Home in Goodland.