Forty Years of Nancy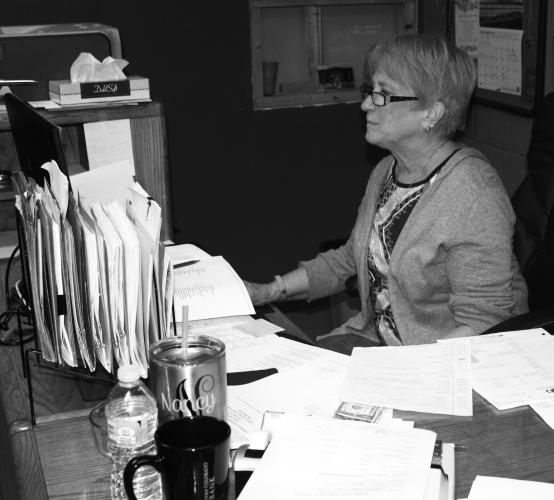 Most students think that 13 years of schooling is an eternity. Can you imagine attending school every day for 40 years? Grade school secretary Nancy Schmidt has been going to school day in and day out for 40 years now.
Schmidt actually retired from Wallace County Schools five years ago, but due to her love of being around the students she came back to work part time.
"I came back to work because I'm not a home body and I wanted to be around the students," she said.
Nancy actually started her job at Wallace County Schools in areas unrelated to being a secretary. She worked in the kitchen and was also a part time custodian in order to make up all the hours she needed to put in a full work week. While working at those jobs, the secretary at the time lost her husband and did not return to work. Schmidt was asked if she would like the secretary job and she gladly accepted. It has developed into a rewarding experience for both Schmidt and those that interact with her on a daily basis.
There are many jobs Schmidt does around the school and they cover a wide range. Some are less glamorous than others and she has definitely dealt with her fair share of sick kids through the years since her office is the first place they are sent if they get sick and need to leave the classroom. Other duties include taking attendance for all K-8 students, taking care of money deposits, printing and distributing grade report cards, lunch room duties during K-8 lunch time, assisting the Activities Director during all ball games from Fall to Spring, and progress reports every week throughout the school year.
Although her duties might seem overwhelming to others, Schmidt says her most enjoyable part of the job is being around the students and she looks forward to coming to work every day.