2022 Wallace County Fair Parade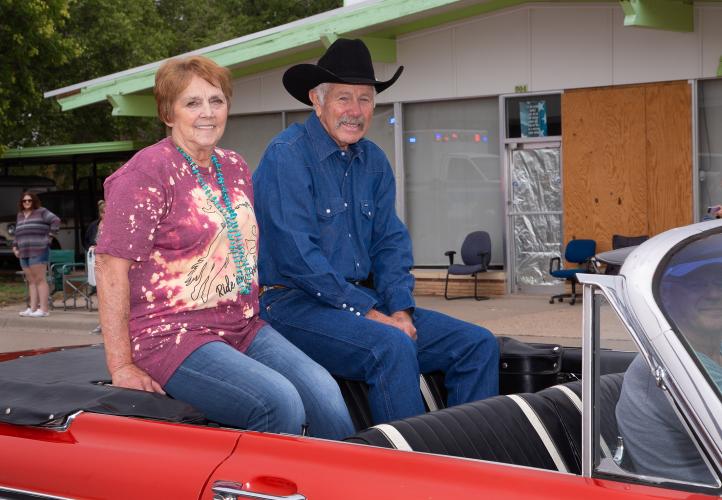 The parade for the 2022 Wallace County Fair was held on Saturday, July 30th. Unseasonably cool weather had many spectators wishing they had worn a jacket, but the overcast sky didn't bring down the mood, or the attendance, as it was easily the best attended parade of recent years.
Parade Results
4-H Floats: First place was awarded to Weskan Windmills, second went to Smoky Valley, and third was given to Harrison Endeavors.
4-H Livestock/Style Review Floats: First place was awarded to Calley Stubbs, second went to Carter Cox, and third was given to Brecken Lock.
Machinery - First place was awarded to Vernon Fischer and his orange tractor, second went to Marion Kuhlman and his John Deere tractor, and third was given to KS Farm Management with an old John Deere.
Horses/Wagons - Dale Johnson was awarded first place, followed by Skye Howard and Jo Hunter who placed second and third.
The Shriners gave an awesome performance earning them a first place in the "other" category.
The Wallace County Junior High School Cheerleaders won first place in the miscellaneous category.
Bikes, Walkers, Motorcycles, & 4-Wheelers: The Wright Family – Dale Wright with sons, Ty and Lee, brought home a first place with their motorcycle antics. Matt Welsh and Kiddos on bicycles placed second as they represented Straightline Irrigation.
School/Church/Businesses: The first place float was the creation of the Wallace County Foundation, Whitaker Wear and Western Kansas Valley placed second and third.
In the Antique Car Category, Jory Parks placed first.
Ronnie Hill's political float placed first, followed by Adam Smith and Rick Billinger who placed second and third.