2nd Annual DJ Noyes Memorial Motorcycle Fun Run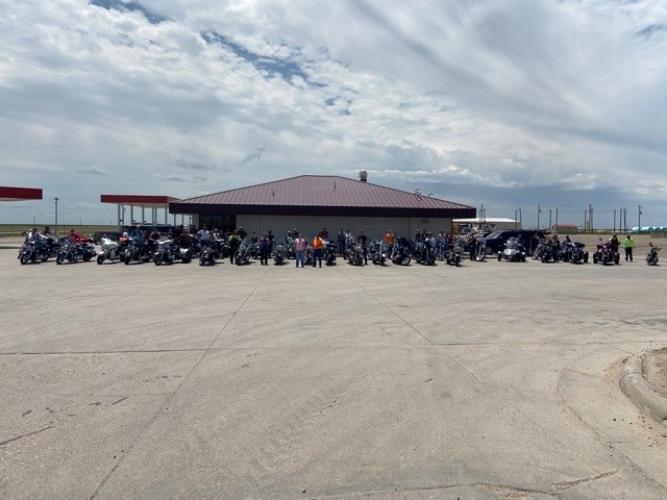 Tri-State Coalition of Concerned Motorcyclists had 42 motorcycles and 48 riders who joined the cause of raising funds for DJ's Toy Fund for Sick Children on Sunday, July 19th.
The event raised over $2900. Riders left Oakley from the Casey's General Store at 11 am ct. Stops along the way included Casey's General Store in Scott City, Eagle Travel & Convenience in Leoti , Eagle Travel & Convenience in Tribune, The 27/40 Store in Sharon Springs, and finished at The Winona Café in Winona at 3 pm ct. One rider was from DJ's family, Matt Nickelson of Weskan. DJ's wife, Lisa, rode on the back of PD Williams's motorcycle, PD is from Oakley and is the Tri-State CCM Assistant Coordinator.
Raising funds for toys is such a special way to help make our local healthcare workers job a little more fun & console a child with a toy of comfort when they have trauma in the hospital, clinic or ER. The Toy Fund provides toys for 7 local counties for hospitals & clinics in NW Kansas: Colby, Goodland, Leoti, Oakley, Scott City, Sharon Springs, and Tribune. The Toy Fund is sponsored by Greeley-Wallace County Healthcare Foundation.
This ride for charity is just one of many that Tri-State CCM puts on each year.