Area Veterans Honored by Quilts of Valor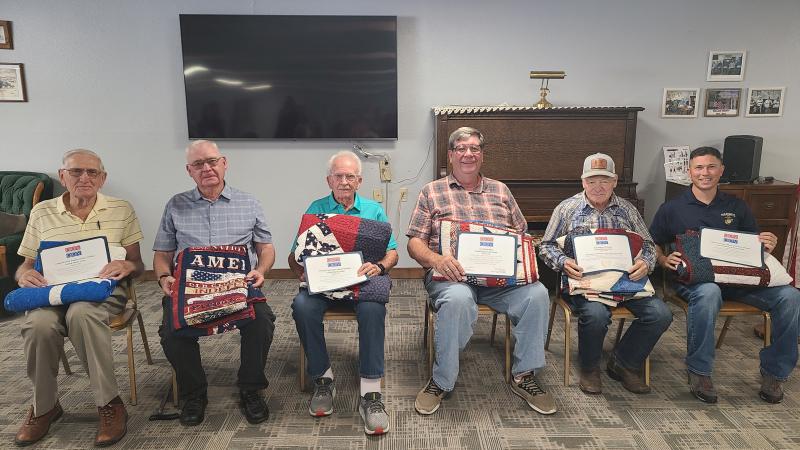 Sunday, August 7th, Gene Walker, Weskan; Ted Bussen, Wallace; Jimmy Bennett, Colby; Mark Rine, Tribune; Samuel Stewart, Tribune; and Michael Chaney, Sharon Springs, were honored by Quilts of Valor for their service in US armed forces.
The Quilts of Valor program began in 2003 by Catherine Roberts whose son was deployed in Iraq. She wanted to make quilts for deployed service men and women. The foundation has spread throughout the US bringing together volunteer quilters to honor veterans with quilts.
The High Plains Quilts of Valor Group stared in March of 2018. Responsible for 7 counties, their 13 volunteers meet monthly to work on quilts. With the 6 quilts awarded during this weekend's ceremony, they have awarded 141 quilts to area veterans. Nationally, Quilts of Valor has awarded 318,483 before this ceremony began. Quilts of Valor has asked groups to designate a veteran to receive an Honorary 300,000 quilt. In the following weeks, The Western Times will feature veterans individually and reveal the recipient of the Honorary 300,000 quilt.