Awards of Excellence: Best Website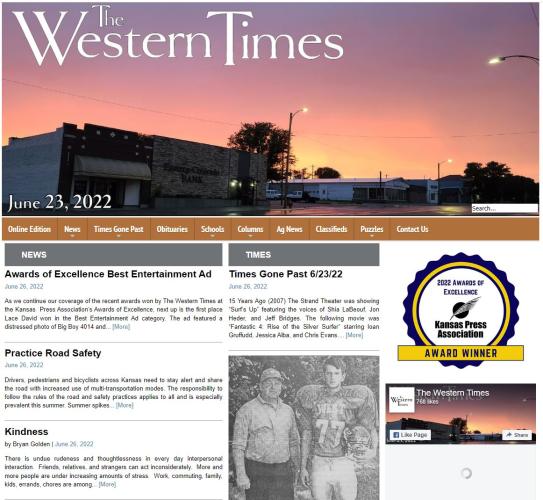 As we continue our coverage of the recent awards won by The Western Times at the Kansas Press Association's Awards of Excellence, next up is the first place win in the Best Website category.
Jon Howard of Pluto Sites developed the award winning site implementing all of the features that were in the mind of editor, Lace David.
"I am most proud of the top of the website and how we are able to update it each week to match the top of the physical newspaper," said David.
Each week the entire newspaper in the form of a pdf file is uploaded typically on Wednesday afternoon. With the change in delivery dates, access to the newspaper via the Internet 1-2 days before the physical newspaper arrives is very handy for those who set up an account.
Online editor, Corey David uploads individual stories later in the week with the help of his son, Erikson David.
The website has a self maintained system that sets up an automatically renewing PayPal transaction that sends an email out to the account holder advising they are due to renew.
Koons-Russell Funeral Home sponsors our Obituary Page, allowing free access to anyone.
We invite you to take a look around the site. The paywall has been lifted for July, giving all readers the ability to access anything on our site!