Candidates visit Rotary in Sharon Springs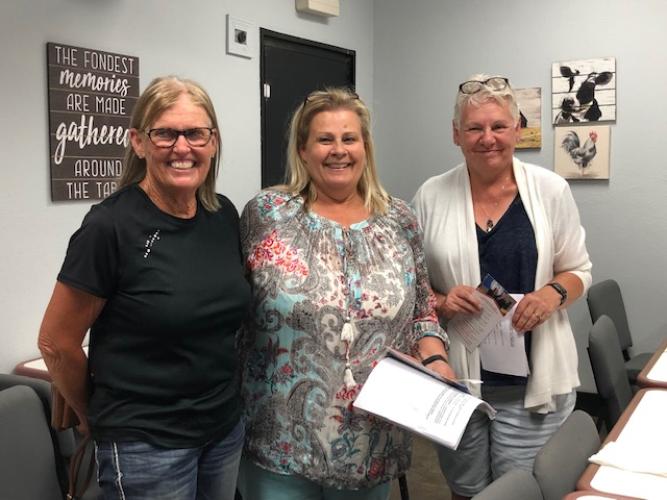 Jean Clifford of Garden City, candidate for State School Board, and Becky Larson of Wallace, candidate for County Commissioner, visited Rotary in Sharon Springs on July 22 when members and other guests gathered for a regular Rotary meeting at the FarmHouse.
Rotarians will operate the merry-go-round at the carnival during the fair. Rita Williams and Etta Walker started repainting the blue frame last week. Members will meet Sunday at 6 a.m. to finish.
Other guests included Christy Hammer and Matt Brown of USD 241; Janaeha Dinkel, a NexGen intern for Etta Walker; and Lace David of the newspaper. President JoAnna Basgall announced that the Rotary District Governor will attend on August 24th.
The program included discussion to learn more about issues and candidates on the August 2nd ballot.
Rebecca "Becky" Larson is a candidate for County Commission and will be on the August 2nd Republican ballot. Becky and her husband, Dan, are full-time farmers and operators of Larson Angus Ranch. Married for 45 years, they have four sons who also live in Wallace County.
Larson's goals for the county include addressing the housing shortage, keeping property tax in check, continuing to improve our county to attract people and businesses, and maintaining a safe community where we know our kids can walk home after a movie and attend a good school system that cares about each and every student. Becky praised the volunteers that jump in at the drop of a hat to help with fires, the EMS, and our home owned carnival. She and Dan have been active in their church, 4-H, the Wallace County Fair, and other community efforts for many years.
Jean Clifford is the District 5 Representative on the State Board of Education and will be on the August 2nd Republican Primary ballot. Her district includes more than 40 counties. She discussed many issues facing educators in Kansas and explained the role of the State Board in formulating standards, addressing learning loss resulting from Covid closures, seeking teachers in a time of teacher shortages, and preserving local control, among other things.
Clifford was trained as a teacher and then as a lawyer, and retired from the Air Force/Air Force Reserve as a Colonel. Jean and her husband of 40 years, Dr. Bill Clifford, have six children. Jean also served ten years on the Garden City USD 357 Board of Education.
For more information about Rotary, contact JoAnna Basgall, Etta Walker, or Rita Williams.