How Does Your Garden Grow... Curing Onions for Storage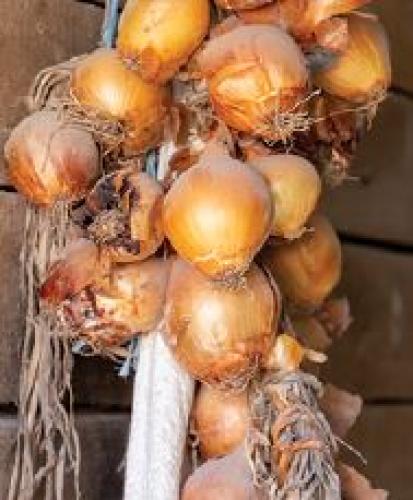 Onions are one of the easiest vegetables to grow, and they also store very well. If stored properly in a cool and dark location, some onions can maintain their flavor and freshness for as long as one year.
There are two main types of onions: pungent and mild. Mild onions do not last very long in storage. Under the most ideal conditions, they may keep for one to three months.
To make them last longer, use them in salsa or pickles or canned stews and tomato sauces. Onions can be frozen, canned or dehydrated. You can also turn them into onion powder or onion salt.
Pungent onions are a better choice for storage. They are usually the onions that make you cry.
Those compounds that cause tears also happen to be the ones that make the onions ideal for long-term storage.
Storing onions is very simple. In the summer and into the fall months, your onion tops will start to turn brown and fall over. That's a sign that they're ready for harvest.
Pull or dig them up on a dry day. Then cure them before you store them.
Newly harvested onions benefit from being dried immediately, but not in direct sun, which can cause uneven drying.
After trimming off shriveled leaves and tickling clods of soil from the roots, lay the onions in a single layer in a covered shed, where temperatures range between 60°F at night and 80°F during the day.
Let them dry for about two weeks, or until the tops and necks feel dry to the touch and the outer onion skin is shrunken and papery. Try not to touch them. Uncured onions bruise easily, so it's important to handle them gently or not at all.
Leave the tops intact if you plan to braid your onions. Trim them if you plan to store your onions loose. Be careful not to cut them too short. Too much stem won't hurt anything.
Let the roots dry naturally. Then cut them back to about a quarter inch.
Store them in a cool, dark place. A temperature between 32 and 40 degrees is ideal. Make sure your storage area has good air circulation and limited exposure to the sun.
Thick-necked onions do not store well. Neither do wet onion varieties, so be sure to use them first. If you have a lot of either variety, your best bet is to preserve them.
After about a month, sort through your onions and select the most perfect ones for long term storage. Remove doubles, onions with split skins, or any others that appear to have the potential for spoilage. Use them up first.
The keepers can be stored up to three onions deep. Each time you take out an onion, check for signs of spoilage. You will usually smell a bad onion before you will see it.
Don't store your onions near your potatoes. Each shortens the storage life of the other. Keep your onions away from other fruits and vegetables that might absorb their flavor.
When you plan next year's garden, seek out onion varieties that are known to store well. These will often be referred to as keeping onions or storage onions in the garden catalogs.