How does your garden grow? - Kansas State Flower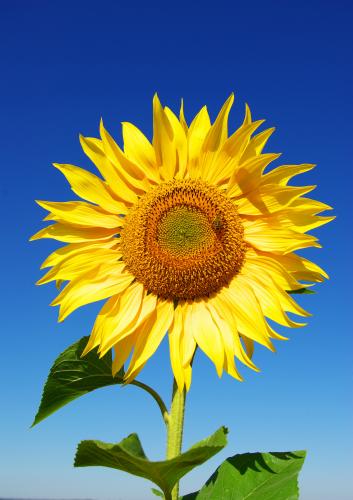 In 1903 the wild sunflower became the official state flower of Kansas. This was less than a decade after lawmakers had unsuccessfully called for the eradication of this "noxious weed." In their legislation, lawmakers praised the sunflower as a symbol of the state's "frontier days, winding trails and pathless prairies."
Sunflowers continue to flourish across the state. Their wide heads and radiant faces make them a photographer's dream. Drivers are often seen pulling over to capture their charm. In 1987, Van Gogh's painting of sunflowers sold for $39 million. (Not the one in Goodland.)
Sunflowers grow best in locations with full sun. They are remarkably tough and will grow in any kind of soil as long as it is not waterlogged. Once sunflowers get started, they can tolerate drought as befits plants whose ancestors grew happily in dry prairie regions. They thrive in hot weather.
Sunflower seeds, leaves and stems emit substances that inhibit the growth of potatoes and pole beans, so they should be separated from those plants. Where sunflower seeds are regularly used as bird feed, toxins from the accumulated seed hulls eventually kill the grass below. Harmless to animals or people, the toxins eventually biodegrade in the soil.
Squash, cucumber, corn and bush beans make good planting companions for sunflowers. Sunflowers deplete soil of moisture and nutrients, so the crop following sunflowers will likely need extra water and fertilizer.
Although sunflowers can be started indoors in individual peat pots, it is easiest to sow seeds directly into the soil. Where the growing season is short, sunflowers can be safely planted up to two weeks before the last expected spring frost. Sunflowers can take a chill or two. Where growing seasons are long, it is best to wait until the soil temperature reaches 55 to 60 degrees F.
To plant in rows, space seeds about six inches apart in a shallow trench between one and two inches deep. In sandy soil, two inches deep is better. Cover and keep watered until seeds sprout. When first true leaves appear (the second set of leaves); thin plants to about two feet apart. If you stagger plantings over five to six weeks, you can enjoy a longer blooming season.
Wider spacing will yield more seeds, while closer spacing will make smaller flowers suitable for bouquets. For smaller flowers, don't fertilize. Even for larger varieties, it's easy to over fertilize, which can cause the stems to break in the fall. Dilute fertilizer and don't get it near the base of the plant.
Sunflowers can withstand some drought, but it is best to water them regularly during their most important growth period which is about 20 days before and after flowering. Deep, regular watering helps encourage root growth.
It is a good idea to support plants that grow over 3 feet tall or are multi-branched. Their branches are fairly brittle, especially at the points where they join the stems. Shallow rooted and weighed down with many large flower heads, plants are vulnerable to summer winds and rain. Tie the plants loosely to stakes with lengths of cloth or other soft material as needed.
Deer, birds and squirrels like sunflowers. If you don't plan to use the seeds, you can enjoy watching wildlife enjoy them. If you want to deter animals, you might need to cover the seed heads with something that will let light and air in. Chicken wire will keep deer from destroying your sunflower patch. Sunflowers attract bees, which makes them valuable for enhancing the pollination of other nearby plants.
Sunflower seeds are rich in vitamins, proteins, and minerals, as well as linoleic acid which helps the body metabolize fats properly. Ounce for ounce, they contain almost as much protein as ground beef, and have about twice the iron and potassium and about four times the phosphorus of beef. Raw sunflower seeds also contain vitamins B, E, and A. They are a good source of fiber.
Dry heads make great bird feeders in the winter. Dried sunflower stems are good kindling.
Use the seeds for snacks, alone or mixed with raisins, dried fruit chips, and nuts. Add hulled sunflower seeds to salads. Substitute sunflower seeds for nuts in baking.
To toast the seeds for enhanced flavor, lightly brown them in a skillet over medium-low heat for about 10 minutes, or on a cookie sheet in the oven at 350 degrees F for about 10 minutes.