Looking Back at 2019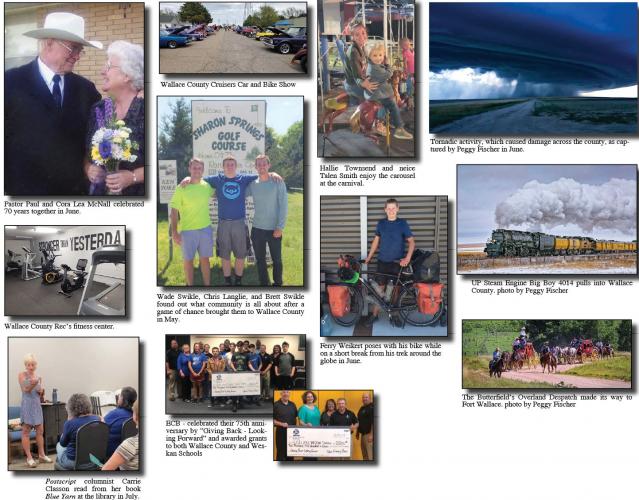 As I reflected on 2019, a reoccurring theme came to mind… Community.
Community is what sets Wallace County apart. We rally together for those with medical bills by way of soup suppers and raffles. We pull together to repair storm damage and form groups to beautify our town. We work together to raise money for improvements to the theater building as well as special equipment for the hearing and sight impaired.
We celebrate milestones together. This year, our community helped Paul and Cora Lea McNall celebrate 70 years of wedded bliss. The Eastern Colorado Bank marked their 75th anniversary this year by way of the "Giving Back - Looking Forward" grants to area schools and organizations.
We welcome visitors to our area. Carrie Classon, stopped on her way through town to read a few selections of her book Blue Yarn. Three adventurous men played a game of chance that brought them to Wallace County just in time for the Fort Wallace Rodeo. Ferry Weikert, of Vaihingen, Germany, chose Sharon Springs for a pit stop as he biked around the globe.
We host big events that bring countless visitors to our county. This year The Kansas Sampler Foundation brought Big Kansas Road Trippers to see what was special about Wallace County. Trails to Rails, an event celebrating the Kansas Pacific Railway arriving in Wallace County in 1869, brought those following the Butterfield's Overland Despatch to its destination, Fort Wallace. Most recently, the Union Pacific scheduled an overnight stop for the UP Steam Engine Big Boy 4014, bringing along with it a crowd of train enthusiasts who traveled along side the train.
We volunteer together. The Strand Theater concession stand is manned by volunteers to decrease operating expenses. The home-owned carnival is also staffed completely of volunteers and relies upon many man-hours to prepare the rides and grounds each July. When a need is identified, a group is quickly created to fill that need, including the recent Beautification Committee and the Wallace County Rec, who spent more than 5 years planning and raising funds for the fitness center that opened in December of 2018.
Together, WE make Wallace County place to proudly call home!