Quilts of Valor Honors Mark Rine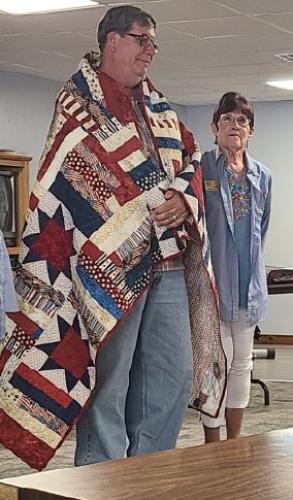 Mark Rine, Tribune, enlisted in the Air Force in 1979 and completed his Basic Training at Lackland Air Force Base in San Antonio, Tex. He also completed Security Police Training while there.
His first duty station was at F.E. Warren Air Force Base in Cheyenne, Wyo where he worked as Base Patrol and then Police Investigations.
Rine was sent to R.A.F. Upper Heyford, UK where he was Flight Chief. He was in charge of a unit of 10 people and later transferred into the Investigations Sections where he served as Detective.
After serving in the UK, Rine returned to the US to serve as Flight Chief at McConnell Air Force Base in Wichita, Kans. He was also in the Investigations Section.
Rine was sent to Rhein-Main Air Force Base in Germany before returning to McConnell Air Force Base to complete his duty. While at McConnell, he was awarded the Air Force Achievement Medal for lifesaving efforts-there was a construction accident, Rine was the first on scene. He performed lifesaving efforts for those involved.
Rine was released from McConnell Air Force Base with a rank of E-6.
Thank you for your service!