Sees Honored by Kansas Bankers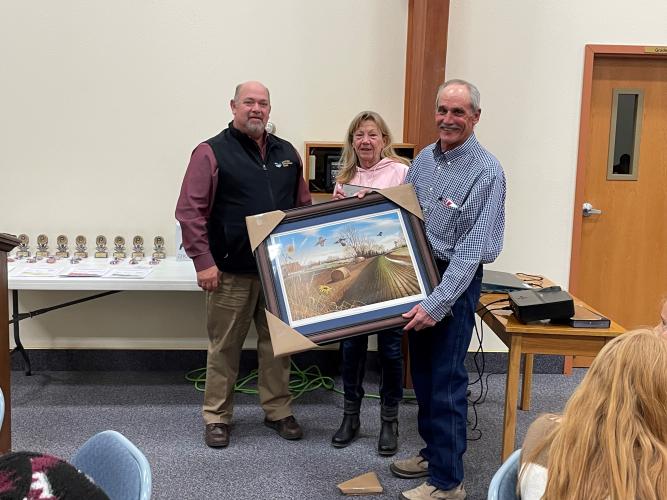 The Kansas Bankers Windbreak Award is given each year by the Kansas Bankers Association cooperating with NRCS, FSA, Extension Service, Kansas State University, State Conservation Commission and the Wallace County Conservation District. The award is presented each year to stimulate a greater interest in windbreaks by giving recognition to landowners who have made outstanding progress in the establishment and management of windbreaks.
This year the Kansas Bankers Association would like to recognize Dexter and Debbie See of Sharon Springs, KS for the Windbreak Award. The See's worked with NRCS to plan their first windbreak which was planted in 1981 to protect the farmstead. It consisted of 160 trees, two rows of Eastern Red Cedar trees and one row of Russian Olive on the north side of their home. A drip system was also installed to ensure the trees would receive an adequate water supply. The See's have added more trees throughout the years including an L-shaped windbreak for livestock protection. It takes constant effort to keep trees alive and healthy in this area and the See's have done an excellent job of maintaining their windbreak as it has matured.
Thank you, Dexter and Debbie, for your hard work and congratulations on being selected the 2022 Kansas Bankers Windbreak Award winner for Wallace County.
Jeff Brase presents the Kansas Bankers Windbreak Award to Debbie & Dexter.