Donald Gene Hileman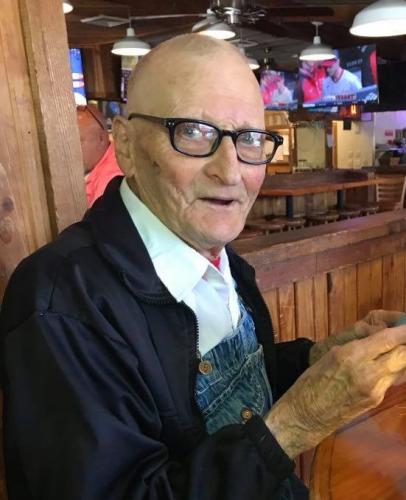 Donald Gene Hileman, 87, Conway, Missouri was born May 7, 1934 on the family farm northeast of Sharon Springs Kansas. He was the youngest child of Gilbert and Mabel (Belknap) Hileman. Gene departed this life September 13, 2021 at his home in Conway, Missouri.
He attended grammar and high school at good ole WCCHS from which he graduated in 1953. He was always loyal to his classmates and kept up with all the schools sporting events through the years. Gene was united in marriage to Yvonne Bieker on December 26, 1953 at Wallace, Kansas. To this union nine children were born. He was extremely proud of all his children and their accomplishments. In his own way, he treated and loved each of his children the same way with no favorites. Gene and Yvonne moved to Marshfield, Missouri in 1963 to start farming. In 1964 they moved to Rader. Gene farmed and worked the stave mill in Lebanon, Missouri. He also worked 20 years at the Zenith plant before retiring.
He also shared a dairy farm with his youngest son. After fully retiring, he returned to Kansas often to visit relatives and attend high school class reunions. Gene was very active in the Senior Center at Conway, Missouri. This is where he earned the nickname "Cupcake". He loved spending time with his kids, grandkids and great grandkids. He attended birthday parties, Christmas and Thanksgiving gatherings, graduations and retirement parties. Gene enjoyed watching most sports, often rooting for his favorite teams the Kansas State Wildcats and the Kansas City Chiefs.
Gene is survived by his nine children, Ron and Debbie Hileman, Duncan, Arizona, Jackie Carr, Kansas City, Missouri, Debbie and Rex Colvard, Marshfield, Missouri, Dave and Robin Hileman, Union, Missouri, Randy and Clare Hileman, Wausau, Wisconsin, Lauri and Rob Hecht, Dallas, Oregon, Terry and Kelly Hileman, Conway, Missouri, Vicki and Steve Sprenkle, Edwardsville, Kansas, and Kevin Hileman, Conway, Missouri; 21 grandkids; 33 great grandkids; four sisters in law; as well as a host of nieces, nephews, family and friends.
He was preceded in death by his parents, Gilbert and Mabel Hileman; his wife, Yvonne Hileman; one sister; five brothers; daughter in law, Larissa, and grandson in law, Patrick Bertoldie.
The family of Gene Hileman would like to thank Conway Senior Center, Intrepid Hospice and Day Funeral Home.
Funeral Mass for Donald Gene Hileman will be held 10:00 a.m. Monday, September 20, 2021 at Sacred Heart Catholic Church, Conway, Missouri. Burial will follow in Reed Cemetery, Conway, Missouri. Visitation will be held Sunday, September 19, 2021 with a Rosary Service beginning at 6:00 p.m. and visitation to follow until 8:00 p.m. Memorial donations may be made to Conway Senior Center or VFW of Laclede County. Online condolences may be made at www.dayfh.com.