Lawrence Raymond Meis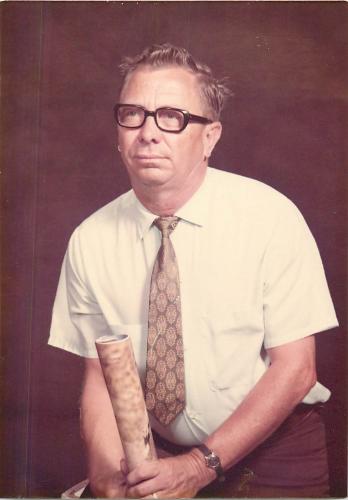 Lawrence Raymond "Shorty" Meis September 9, 1927 - April 15, 2018
Lawrence "Shorty" Meis was born September 9, 1927 in Wallace County, Kansas to Henry Meis and Sophia (Dorzweiler) Meis. He spent his childhood on a farm in Sharon Springs, Kansas during the Great Depression and the Dust Bowl. After graduating from Wallace County High School in 1945, he worked on the Bricker farm for Ron and Amelia Bricker (his sister). He married Theresa Howard on January 12, 1950. In January of 1951, he joined the Air Force and assisted with opening Clovis Air Force Base in New Mexico. After being honorably discharged in 1952, Lawrence moved to Goodland, Kansas where he worked for International Tractor, Massey Ferguson, and White Machine Motors.
In 1966, Lawrence accepted an offer from Dick Hoch and Gordon Sipple to own and operate his own John Deere dealership in Northeastern Colorado, eventually expanding the business to include two stores in the communities of Yuma and Wray. He faithfully committed his life to L&L Implement, and the communities of Yuma and Wray for 34 years before retiring from the business in 2000. When not at the dealership, he spent his time making his friends laugh and spoiling his grandchildren. While living in Yuma, he was an avid supporter of the 4-H programs, the FFA, the schools, and other community-based programs.
Lawrence spent much of his retirement in Colorado Springs close to his daughter and grandchildren, before relocating to Denver in his final years.
The third youngest of 14 children, Lawrence was born ornery and never failed to fulfill his life's purpose of making people laugh with his smile and playful antics. Incredibly loving, fiercely loyal, unequivocally intelligent, and unfailingly generous, he spent his life supporting his community and encouraging his family to continue his legacy of always working hard, and keeping a warm and open heart. He would oftentimes be found with his hand on his chin, deep in thought, and ready to advise - or joke, whatever the occasion called for. He will be most missed for the light he would bring to one's day, the undying support he gave to his friends and family, and his ability to tell a story a thousand times while making people laugh every single time.
Stubborn to the end, Lawrence was the last of his siblings to pass, and the longest living of all his family. He will be greeted in heaven, with a raucous party, by his thirteen siblings: Adolph (Celestine), Alois (Lula), Rose (Alvie), Martin (Susan), William (Elizabeth), Leona (Victor), Albert (Agnes), Mary (Cletus), James (Eileen), Joe (Louise), Amelia (Ronald), Henry (Velma), and Clarence, and by his son, David Meis. His family is sure his beloved cat PeeWee will also be waiting for him.
He is survived by his wife Theresa; his Daughter Debra (Gary); four Grandchildren, Larry Sewell (Jerri), Serena Roberson (Phil), Gary Antonio, Jr. (Jenn), Crystal Antonio; five great grandchildren, Brittany, Dallas, Austin, Lailah, and Logan; along with numerous nieces and nephews.
A celebration of Lawrence's life will be held on Friday April 27, 2018, at 10:00 AM at Queen of Peace Catholic Church, in Aurora, CO, followed by a ceremony at Fort Logan National Cemetery at 3:00 PM.
In lieu of flowers donations can be made to: Yuma county 4-H council, attn: Jolynn, 310 Ash St, Wray, CO 80758.