Raymond "Fox" Still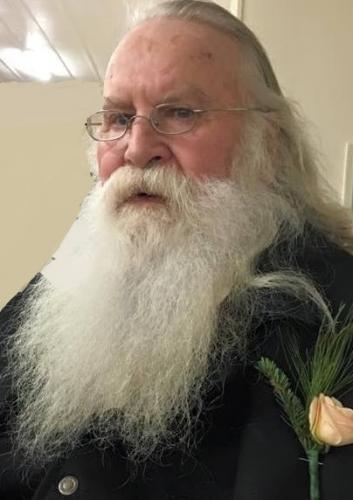 Fox was born September 30, 1940 in Sharon Springs, Kansas to Walter Ray & Esther M. (Hurt) Still. He attended school in Sharon Springs and graduated in 1960. He joined the US Navy in 1962 and was assigned to the USS Constellation as a Boiler Technician (BT) during Vietnam. He was awarded the Armed Forces Expeditionary Medal, Navy Unit Commendation Ribbon Bar, and Good Conduct Medal. After the end of his service, he returned to Sharon Springs and later was married to Anita Louise Thummel. To this union two sons were born; Shane Paul and Travis Ray. In 1972 he met Sharon (Fairchild) Still and the two were married in 1974. To this union two children were born and one unborn; Windy Ranae and Yancy Lee.
Throughout the years he was employed at Cowles Motor Company, Wallace County Co-op, and T & S Construction. Then took a part-time job working for the City of Sharon Springs with Ron Weehunt as his relief as City Night Marshall until Weehunt resigned. Fox then was hired as Chief of Police. After retiring as Chief, he continued to work for the Wallace County Sheriff's Office part-time until 2012.
His hobbies included hunting, woodworking, fishing, metal detecting, sculpting, drawing, playing cards, and riding motorcycles. He taught his children the love of hunting and shooting bow & arrow; passing it down to his son-in-law and grandchildren. Fox loved when his children and grandchildren would come to spend time. He was always up to helping with coloring Easter eggs with special $5.00 ones and helping hide them. At Christmastime he would play jokes on the kids such as gifts of coal and old found hot wheels cars, which were later retaliated on him when the kids got older. He made his yard art which was a local attraction bringing people from far and near; especially the children of the community.
He is survived by his wife Sharon of the home, sons Shane (Susan) of Yulee, Florida, Travis of St. Anthony, Idaho, Yancy of Sharon Springs, Kansas, and daughter Windy (Ryan) McClung of Ellis, Kansas; grandchildren Tristan, Samuel, Brooklyn, Kristin, Taylor, Rae, Tabasco, Chloe, Piper, Journey, Hunter, Destany, Justice; great granddaughter Cora; sister Wilma Willham of Eugene Oregon; nephews Shannon and Trent; and niece Sue.
He was preceded in death by his parents Walter Ray and Esther M. Still and an infant child.
Funeral services for Fox will be held on Thursday, December 14, 2017 at 11:00 AM MT at the Wesleyan Church in Sharon Springs with Pastors Seth McGregor, Paul McNall and Chad Pritchett officiating. Burial with Military Honors will be held at the Sharon Springs Cemetery in Sharon Springs, KS.
Visitation will be held on Wednesday, December 13, 2017 from 5:00 to 7:00 PM MT at the Koons-Russell Funeral Home in Sharon Springs.
Memorials are designated to the Raymond Still Scholarship Fund and may be left at the services or mailed to Koons-Russell Funeral Home, 211 N. Main Ave., Goodland, KS 67735.
Online condolences may be left at www.koonsrussellfuneralhome.com.
Funeral service arrangements were entrusted to Koons-Russell Funeral Home in Sharon Springs, KS.