Doris M. Linden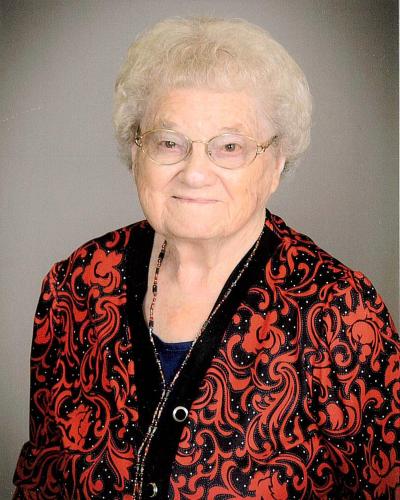 Doris M. (Shearer) Linden was born in rural Phillips County near Long Island, KS on March 23, 1926 and was raised near Almena. She was the 2nd of 10 children born to Vernon and Rosie Ella Shearer. Doris passed away on March 21, 2022, just two days shy of her 96th birthday.
While growing up, Doris helped raise her younger siblings, went to country school until attending high school in Almena, and then graduated with the class of 1944. After high school, she worked in the dietary dept. at the Holdrege, NE hospital. On May 20, 1948, Doris married Guy Linden at St. Francis of Assisi Catholic Church in Norton, KS. To this union three children were born, Frank, John, and Rosella. Doris loved her chickens and had many egg customers. She raised chickens almost every year to butcher while they lived on the farm. Doris always had a large garden, milked cows, and helped the guys with harvest, the cattle, fixing fence and hoeing weeds. Guy and Doris purchased their farm west of New Almelo before getting married and lived there until moving to Norton in 1986. Guy passed away in 2002 and Doris moved to Whispering Pines Assisted Living in Norton in 2018. She was a member of the St. Joseph Church in New Almelo and later St. Francis of Assisi Church in Norton.
Doris was preceded in death by her parents; husband, Guy; sister, Dorothy Morford; brothers: Dale, Gerald, Eldon, Arnold, an infant brother, and numerous brothers-in-law and sisters-in-law. She is survived by her children, Frank (Sheryl) of Goodland, John (Becky) of Clayton, and Rosella (Kevin) Ryser of Sharon Springs; grandchildren: Brandon Linden, Emily (Kade) Bloom, Brett (Michaela) Linden, Brian (Lindsey) Linden, Kylie Ryser, and Jaden Ryser; six great grandchildren; brothers, Dean, Roger, and Lonnie (Patricia); sister-in-law, Elaine Shearer, and many other family members and friends. She is also survived by her special friends, Bob and Ila Virgil, Bob and Charlotte Stephenson, and the staff at Whispering Pines.
Mass of Christian Burial will be held 10:30 am Friday, March 25, 2022 at St. Joseph Catholic Church in New Almelo. Burial will follow at the St. Joseph Cemetery. Visitation will be Thursday, March 24 from 10:00 am-2:00 pm at the funeral home and then 5-7:00 pm at the St. Joseph Parish Hall with a Rosary following at 7:00 pm. Memorial contributions may be made to St. Joseph Church, Hospice of Norton County, or Whispering Pines and sent in care of Plumer-Gobber Funeral Home, 215 W. Main St., Norton, KS 67654. Condolences may be left at www.plumergobber.com.