Lenetta Joye (David) Lock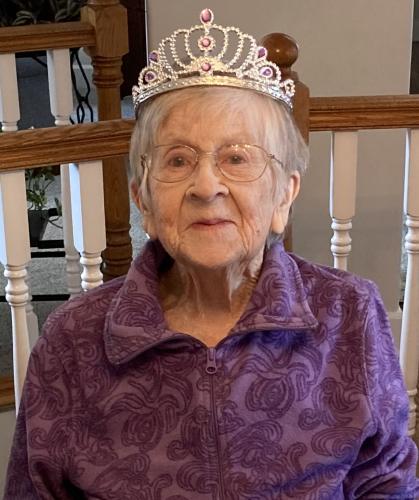 Lenetta Joye (David) Lock, 97, of Onaga, Kansas quietly made the journey to her heavenly home on Sunday, May 28, 2023 at the Good Shephard Hospice House in Manhattan, Kansas.
Lenetta (Nettie) was born October 23, 1925 to Walter and Loedisa (Teichmer) David in Wallace, Kansas. This was her home for 88 years. She moved to Sharon Springs in fall 2013 with John. Then in March 2022 she moved to Onaga, KS with her son, David, to be closer to immediate family.
In 1943, she was a member of the last graduating class from Wallace High School. While she was still in high school, she had many anxious moments as her sweetheart that happened to be a boy that was born just 2 blocks east of where she was born named John Francis Lock, was serving his country on the U.S. South Dakota battleship in WWII from 1942 - 1945.
John & Nettie were united in marriage on September 1, 1946 on her parent's farm southwest of Wallace. They shared 69 years together. To this union, 3 children were born… John David (died at birth in 1948), David Eugene (1950) and Loedisa Jo (1953). Times were hard and there weren't many extras. Although the home in the northwest part of town was tiny, there was always plenty of love.
Nettie was employed in the bank for multiple decades ranging from the 1940s to 1991, temporarily taking time off to raise young children. If not at the bank, she was dedicated to being at Lock's Electric where she wore many hats including bookkeeper, used appliance cleaner and keeping John in line. No matter where she was, Nettie was known for her hard working, sweet-natured witty humor that brought many smiles and JOYE to the community. She loved the friendships she made while serving the public.
Her United Methodist Church family meant the world to her! She not only valued but lived Christian qualities of integrity, honesty, and caring compassion throughout her life.
She was preceded in death by her husband, John, infant son, John David, parents, Walter & Disa, sister, Ethel (Paul & Bryson), and brothers, Floyd (Bernice) & Johnny.
She is survived by her son, David Lock, daughter, Jo Petty (Jerry), second daughter, Stephanie Brock, grandchildren Amy Glaves (Scott), Tim Petty, Alicia Matson (Brian) & Zack Lock (Becca), great grandchildren Brigham & Brady Glaves, Jovin & Kaiden Matson, Blake & Tate Lock and many nieces & nephews.
Funeral services were held on Friday, June 2, 2023 at 10:30 AM MT at the Sharon Springs Methodist Church. Burial followed in the Sharon Springs Cemetery.
Visitation was held on Thursday, June 1, 2023 from 6:00 to 8:00 PM MT at Koons-Russell Funeral Home in Sharon Springs.
Memorial contributions may be designated to the Sharon Springs Methodist Church or to St. Jude Children's Research Hospital and may be mailed to Koons-Russell Funeral Home, 211 N. Main Ave., Goodland, KS 67735.
Online condolences to the family may be left at www.koonsrussellfuneralhome.com.
Services have been entrusted to Koons-Russell Funeral Home in Sharon Springs, KS.