Ray Hampton Mann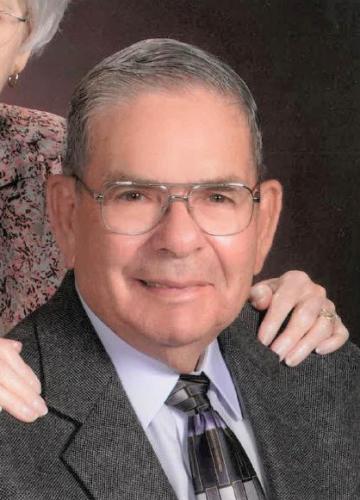 Ray Hampton Mann, 93, died September 15, 2022, at the Baptist Village of Owasso in Owasso, OK. He was born December 13, 1928, on the family farm in Happy, TX. The son of Ira J Mann, Sr and Pearl Hampton Mann. He was proud to be one quarter Choctaw and a member of the Choctaw Nation. He grew up on the farm in Bradley, Grady County, Oklahoma.
After graduating high school in Alex, Oklahoma he served his county in the US Army. He was an air defense artillery troop and a military policeman of the 738th Military Police Battalion, Manilla, Philippines during World War II. Following college, he received a commission into the Army Reserves and raised to the rank of Captain.
Ray and Geraldine Denson were married in Wichita Falls, TX on July 18, 1949. He received his undergraduate degree from Oklahoma A&M (Oklahoma State University) in 1951 and then a master's degree from Kansas State University in 1965. Ray spent the majority of his career as the Kansas State University Area Extension Service Director for Southwest Kansas, located in Garden City. He retired in 1991.
He was a member of the First United Methodist Church and the Builders Sunday School class while in Garden City. Was an active member of Sunrise Kiwanis and volunteered many years preparing taxes through RSVP and the Garden City Senior Center. He served on many boards and committees such as Garden City Senior Center, Emmaus House, Mosaic of Garden City, and First United Methodist Church Pastor Parish Council. He also delivered thousands of Meals on Wheels and maintained lifetime memberships with the Freemasons, the American Legion, and Epsilon Sigma Phi.
Ray was a devoted husband, father, and granddad. He enjoyed hunting, fishing, reading, walking, woodworking, watching old westerns and war movies, and Kansas State and Oklahoma State football. Above all he cherished time with his family. We will remember his sense of humor and orneriness but most of all his immense love for us and how he gave it so freely.
Ray was preceded in death by Geraldine, his parents, infant sister Agnes, brother Richard, and nephew John Mark Mann.
Survivors include his daughters, Linda (Bob) Baker of Owasso, OK and Judy (Dale) Robl of Salina; brothers Ira J Mann, Jr (Claudia) of Wichita and John Mann (Claudine) of Louisville, KY; grandchildren, Robert (Rochelle) Clower, Eric (Rebecca) Clower, Nicole (Mark) Daniher, Jonathan (Emily) Baker, Peter (Sarah) Robl, Jordan (Sadie) Robl, Adam Robl, Jill (Max) Rowland, Jason Baker, and Kristine Baker. 16 great-grandchildren; and many nieces and nephews
Funeral services will be held at 10:30 a.m. on Saturday, September 24, 2022, at the First United Methodist in Garden City with Rev. Joel Plisek officiating. Burial will follow at Valley View Cemetery in Garden City with military honors conducted by the Kansas Army National Guard and the American Legion District #8 Honor Guards.
Friends may call from Noon to 8:00 p.m. on Friday at Garnand Funeral Home in Garden City. The family request memorials be given to the First United Methodist Church of Garden City or to the Finney County Retired Senior Volunteer Program, both in care of the funeral home. Condolences may be given at garnandfuneralhomes.com.
Arrangements by Garnand Funeral Home, 412 N. 7th St., Garden City, Kansas 67401.