Eirving Eugene Rains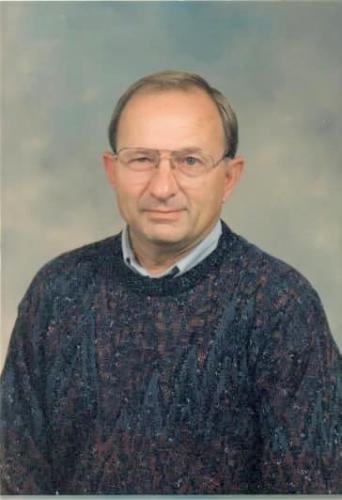 Eirving Eugene Rains, 80, of McPherson, Kansas, passed away unexpectedly of natural causes at 2:29 p.m., Saturday, May 21st, 2022 at his home.
Eirv was born in Wallace, Kansas at his grandparents Locks' home, on July 22, 1941, a son to Mary Ruth (Lock) and Eldon Morris Rains.
Eirv started grade school at Winona grade school, Winona, Kansas and finished grade school at Wallace, Kansas and graduated Wallace County Community High School, in Sharon Springs, Kansas in 1959.
He honorably served in the U.S. Army as a SP4. He was stationed in Germany and with his mechanical abilities he was put in charge of the motor pool.
Eirving Eugene Rains was united in marriage to Navene Neva Grund on June 27, 1965 at the Baptist Church in Sharon Springs. The young couple established their first home together in Wallace. This union was blessed with the birth of three children, two sons and one daughter, Keith, Kent, and Kerry. In the fall of 1971 the family moved to Sharon Springs, until 1999 when they moved to McPherson, Kansas.
Eirv grew up around his Uncle George Lock's gas station and mechanic shop where he learned mechanic skills and later became a mechanic for the Ford Garage in Sharon Springs. After returning from the Army, Eirv went to work at the Cowles Motor Service in Sharon Springs for a couple years. He then decided to go to work for Navene's Uncle John Mather's auto parts store and gas station. After a couple years, John sold the business to Eirv and Navene in 1968. They owned and operated the business employing many family members until 1999 when he retired and sold the business to a nephew, Chance Rains. During this time Eirv also served as mayor for 16 years, an EMT for 20 years, as the Wesleyan Church treasurer and worked on building projects, was a member of the Chamber of Commerce serving in many capacities, and served on the Board of Education, all of Sharon Springs.
Eirv attended the First United Methodist Church in McPherson.
Eirv enjoyed his family especially his grandchildren, great-grandchildren, and cats. He was a perfectionist and could fix anything and loved things clean. He enjoyed playing cards, board games, golf, and loved watching the Kansas City Chiefs and Kansas Jayhawks basketball. He enjoyed rides in the country and telling the history of Wallace County with his family. His grandkids loved when Grandad would get the golf cart out and he would give them all rides and teach them to drive.
He is survived by his loving and caring wife of over 56 years Navene Rains, of McPherson; his children, Keith Rains, and wife Teresa, of Little River, Kent Rains and wife Suzanne, of Lenexa, and Kerry Schrock and husband Sam, of Kearney, Nebraska; his siblings, Richard Rains, of Wallace, Becky Vincent and husband Tony, of Sharon Springs, George Rains and wife Debbie, of Wallace, and Gerald Rains and his wife Shirley, of Sharon Springs; his sister-in-law, Maxine Atkinson and her husband Gene, of Garden City, Kansas; his seven grandchildren, Marci Boltz and husband Luke, Bronson Rains, Abigail Rains, Ethan Rains, Piper Schrock, Kade Schrock, Kit Schrock; his five great-grandchildren, Laetyn Boltz, Raif Boltz, Steelie Boltz, Ramsey Boltz, and Bret Boltz; many nephews, nieces, other relatives, and a host of friends.
Eirving was preceded in death by his parents; his brother Allen; a sister-in-law, Pat Rains; a nephew Greg Rains and his wife Mel.
A memorial service will be held at 11:00 a.m. on Thursday, May 26th, 2022 at First United Methodist Church in McPherson, Kansas with Deacon Jeanne Koontz officiating.
Interment will be at the McPherson Cemetery McPherson, Kansas. Military honors will be presented by members of the American Legion Post 24 and Veterans of Foreign Wars Post 2715 both of McPherson with Taps being played by Mark Casebeer.
In lieu of flowers, memorial contributions may be made to The American Heart Association and they can be sent in care of the Glidden - Ediger Funeral Home; 222 West Euclid; McPherson, Kansas 67460.