James "Jimbo" Ambrosier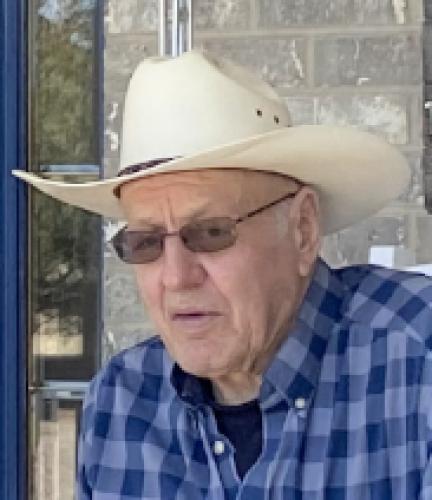 James "Jimbo" Ambrosier (72) passed away on February 26, 2022 with many of his loved ones surrounding him.
Jimbo was born on June 11, 1949, to Claude and Veronica (Mahlberg) Ambrosier in Cheyenne Wells, Colorado. He had two big sisters to welcome him home; Loreene and Rita. He graduated from Cheyenne Wells High School in 1968.
Jimbo began to hang out with the Roth boys, Bill, Alan and Greg while he was in school. Eventually, he started working for Bill and Sandie Roth, and that was the beginning of the lifelong relationship with his chosen family. He also worked many years for the Eastern Colorado Bank as an inspector and courier. He loved that job and loved meeting new people and visiting with old friends.
Jimbo lived his whole like in Cheyenne Wells and raised a lot of cain with many friends. He loved to go and watch his kids play sports, attended birthday parties and was present for many family gatherings and holidays. He was also always willing to lend a helping hand on the Roth farm. Jim gave nicknames for each of his chosen kids and many of his friends. He didn't know a stranger and would strike up a conversation with anyone. He had a heart of gold and has let a huge hole in the hearts of many.
Jim is preceded in death by his parents, both sisters and brother-in-laws.
He leaves behind his chosen family to mourn his death: Bill and Sandie Roth, Tami (Ray) Brown, Cassa (Rick) Haney, Craig (Julie) Roth, Tracy (Bryce) Walker, Tori (Dennis) Beek, Trey Brown, Sunee (Aaron) Persinger, Abbee (Mike) James, Riley Haney, Kahlee (Cameron) Penny, Blake (Ashley) Roth, Kenli (Colter) Engelbrecht, Beau Roth, Derek (Morgan) Kern, Payton (Evan) Stucky and Hayden Walker and all the great grands of Bill and Sandie.
Jimbo, we love you, we miss you, and we thank you for the love you poured into our lives.
Funeral services for Jim Ambrosier were held on Friday, March 4, 2022 at the Wells Of Faith Fellowship in Cheyenne Wells, CO. Burial followed in the Fairview Cemetery in Cheyenne Wells. Memorial contributions should be made to the Jim Ambrosier Memorial Fund in c/o any Eastern Colorado Bank location. Friends and family can register online condolences and sign the guestbook at www.brownfuneraldirectors.com. Visitation and funeral services were entrusted to the care of the Brown Funeral Home in Cheyenne Wells.