John Paul Slaven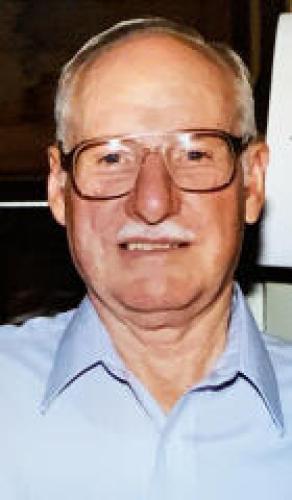 John Paul Slaven, 93, died June 23, 2022 at Presbyterian Manor of the Plains in Dodge City. He was born on September 2, 1928 in Sitka, Kansas the son of John W. and Dora I. (McClung) Slaven.
Paul graduated from Weskan High School. Following graduation, Paul enlisted in the United States Army, serving his country from November of 1951 to November of 1953. After being honorably discharged, Paul began his career as an insurance agent for 25 years before retiring. On May 20, 1951, Paul was united in marriage to Doris Ida Walker. They lived in Weskan, Palco, and Sharon Springs before moving to Cimarron in 1991.
He was a member of the Cimarron Nazarene Church and the Rotary Club both of Cimarron.
Paul is survived by two daughters, Diane Connally and husband Keith of Olathe and Shannon Satterfield of Derby; a daughter-in-law, Wrenn Slaven of Fort Atkinson, Wisconsin; two brothers, Charles Duane Slaven of Galveston, Texas and James Grant Slaven of Tucson, Arizona; a sister, Isabel Smith of West Plains, Missouri; nine grandchildren, Caleb, Prairie, Sage, Wyatt, Justin, Jamie, Beau, Britt, and Brayden; and four great grandchildren, Maverick, Greyson, Emory, and Lydia. He is preceded in death by his wife, Doris Slaven; two sons, Michael Paul Slaven and Greg Slaven; seven siblings, Frank, Louis, Winfield, Teddy, Lilly, Melissa, and Ruby.
Funeral service were held at the Cimarron Nazarene Church on Tuesday, June 28, 2022 at 10:00 AM with Pastor Tom Boese presiding. Burial was at 3:00 PM MST at the Weskan Cemetery in Weskan with military honors by KSARNG and American Legion 8th District Honor Guard. Memorials are suggested to Cimarron Nazarene Church in care of the funeral home. Thoughts and memories may be shared in the online guest book at www.swaimfuneralhome.com.