Luella Grace (McIntyre) Smith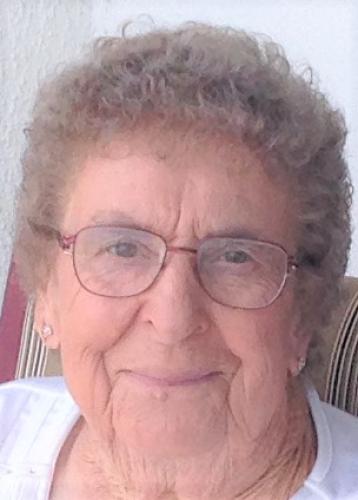 Luella Grace (McIntyre) Smith, 90, died Sunday, February 27, 2022, at Citizens Medical Center, Colby, Kansas.
She was born September 5, 1931, at Lakeview, South Dakota, to Walter Marion McIntyre and Florence Wilhelmina (Nieuwenhuis) McIntyre. She started school in South Dakota and when she was about 15 years old, the family moved to Kansas.
Luella was the eldest of eight children, Clayton (Frances) McIntyre, Raeburn (David) Drake, Bruce (Margaret) McIntyre, Sandra (Bill) Donlon, Marilyn (Jack) Wheeler, Roxanna (Robert) Berning, and Relda (ML) Everett.
Luella married Elmer J. Smith on November 27, 1948 in Scott City, Kansas where they made their home and began their life together. While they lived in Scott City, Luella worked at the Ideal grocery store and also helped her sister Marilyn in the restaurant that Marilyn and Jack owned called the "Coffee Cup". As was the norm in those days, Luella worked many jobs in many capacities to help people out as best she could. During the early years of their marriage, Luella travelled with Elmer who ran a construction crew that built many grain elevators in Kansas, Nebraska, and South Dakota. One of the elevators that Elmer built was in Weskan where the family moved in 1962 to live and farm. Over the years they raised sugar beets, sunflowers, wheat, milo, corn, cattle, and hogs.
Luella was a devoted wife and mother. She was very involved in the farming operation and could always be found working alongside Elmer whether it be driving grain truck to the elevator, a silage truck to the pit, watering hogs, or whatever needed to be done at the time. Her family was always first for her and she was always ready to watch her children and grandchildren in their endeavors and greatly enjoyed the time they spent together. She will be greatly missed by many.
Luella was preceded in death by her husband of 65 years, Elmer and an infant daughter, Brenda Sue; her parents Walter and Florence McIntyre, two brothers, Clayton (Bud) and Bruce; two sisters-in-law, Margaret McIntyre (Bruce) and Frances McIntyre (Bud); brothers-in-law David Drake (Raeburn), Robert Berning (Roxie) and ML Everett (Relda).
She is survived by four children Curtis (Jo) of North Platte, NE, Larry of Sharon Springs, KS, Cindy (Shawn) Reinert of Colby, KS and Corey (Loretta) of Weskan, KS; five grand-children, Darren Smith, Denee (Jay) Elfeldt, Devon (Wendy) Smith, Hayden (fiancé, Myka) and Jenna Reinert of Colby; great-grand-children, Garrett, Janee, Fallyn, and Gracyn Elfeldt; Ian Smith; Haley and Kacie Smith. Step grand-children Toni (Steve) Adams and Shanadi (Clint) Chamberlain.
Visitation was held on Thursday, March 3, 2022 from 5:00-7:00 PM MT at Koons-Russell Funeral Home in Sharon Springs, KS.
Funeral services was held on Friday, March 4, 2022, 10:00 AM MT at the Weskan Bible Church in Weskan with Pastor Tim Cress officiating. Interment was held on Friday, March 4, 2022 3:30 PM CT at the Scott County Cemetery, 1330 S. Kansas Road, Scott City, KS.
Memorial contributions may be designated to the Luella Smith Memorial Fund and may be mailed to Koons-Russell Funeral Home, 211 N. Main Ave., Goodland, KS 67735.
Online condolences for the family may be left at www.koonsrussellfuneralhome.com.
Funeral services have been entrusted to Koons-Russell Funeral Home in Sharon Springs, KS.