Wanda Irene Jenkins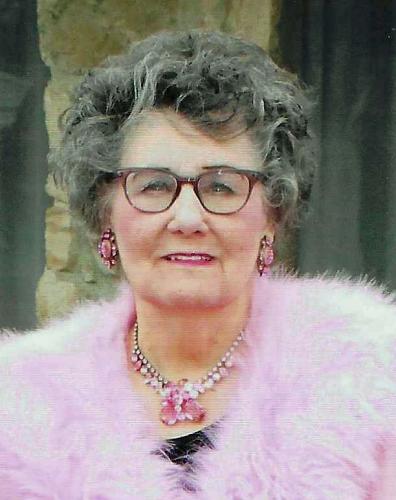 On March 20, 2022, at 8 p.m., Wanda Irene Jenkins, 87, of Bartlesville, stepped into the arms of Jesus and started her amazing eternity with Him.
Wanda was born on September 10, 1934, in Campo, Colo., to John Perry Harbert and Helen Priscilla (Grimm) Harbert. At the age of 15, Wanda and the love of her life, Marvin Chester Jenkins, who was 19 at the time, eloped. They married on February 8, 1950, in Amarillo, Texas, and Wanda became a loving homemaker, having 5 children born from 1953-1963: David Ray, Bonita Gay, Donita Fay, Paul Jay and Vonita Kay.
In their early years of marriage, the couple made their home in Campo, where they lived until 1962. While Marvin farmed broomcorn, he would hire 25 workers to help harvest, and Wanda would cook three meals for all the men, all while taking care of her children. Feeling God's call to the ministry, in 1962, the couple moved to Madrid, Neb., where Marvin pastored a Wesleyan Church and Wanda served as the pastor's wife. Later the couple pastored churches in Superior, Neb., Burr Oak, Kan., Sharon Springs, Kan., and Topeka, Kans. After retiring from the ministry, the couple moved to Bartlesville in 1996 to be closer to their family.
Wanda was a hard-working and dedicated mother. Some of her past jobs included working at a Bible bookstore and serving as a cashier to Furr's Cafeteria. She was an Avon representative many years and won many Avon awards.
Wanda had a beautiful singing voice and sang in various churches and Christian venues over the years, as well as having released two albums. Her love of gospel music began as a child when she sang with her sisters. She then shared her love of Gospel music with her children who began singing at church when they were very young. The family traveled and sang at many churches, recorded four albums and performed on a weekly television program in the early 1970s.
Wanda's children describe her as an "ever-present" mother who was always there when they came home from school. She was a wonderful homemaker. She not only cooked and baked, but she was also very artistic and creative. She sewed clothes for her children and even made neckties for her husband, back in the days when double knit neckties were in fashion.
She loved to decorate her home and collected clocks, dolls and beautiful dishes. Wanda spent hours decorating her home for the holidays and often had Christmas trees in every room. Her children shared fond memories of Wanda's ability to work miracles with a can of gold spray paint. She enjoyed bold, bright colors.
In her later years, Wanda started working with the Arvest Trust Department who would send her to help their clients who were unable to clean their own homes. She grew this idea into her own business. She would serve people who needed help and companionship and treated it like a ministry. She did this well into her 70s. Wanda truly had a servant's heart and spent many years as a greeter at Sooner Park Wesleyan Church. She enjoyed making homemade cinnamon rolls and would give them to her neighbors.
Wanda is survived by her beloved husband of 72 years, Marvin Jenkins of Bartlesville; two sons, Dave Jenkins and wife Debbie of Bartlesville, and Paul Jenkins and wife Ineze of Dumas, Texas; three daughters, Bonita McNall and husband Greg of Bartlesville, Donita Rovenstine and husband Joe of Bartlesville, and Vonita Williams and husband Larry of Bartlesville; three sisters, Wilma Shaw and husband Ken of Campo, Colo., Delma Rodgers of Edmond, and Mary Maggard and husband Albert of Pampa, Texas. In addition, Wanda, enjoyed spending time with her 19 grandchildren, 52 great-grandchildren and 1 great-great-grandchild, to whom she was affectionately known as Nanny J.
In addition to her parents, she was preceded in death by three sisters, Delores Raines, LaVelda Tingleff, and LaVada Rodgers; a brother, Danny Harbert; a great-granddaughter, Cambri Jade Jenkins. Also greeting Wanda in heaven were her 8 miscarried grandbabies.
Wanda's family received friends at the Davis Family Funeral Home & Crematory – Walker Brown Chapel, 918-333-7665, 4201 Nowata Rd., Bartlesville, on Friday from 6-8 p.m. Visitation was held from 10 a.m. to 5 p.m. on Friday. Visitation was closed to the public from 5-6 p.m.
Funeral services were held at 10 a.m. Saturday at Bartlesville First Wesleyan Church with Rev. Greg McNall and Rev. Dr. Josh McNall officiating. Interment followed in the Memorial Park Cemetery in Bartlesville. Services are under the direction of Carter Davis and the Davis Family Funeral Home & Crematory – Walker Brown Chapel. Online condolences and remembrances may be shared at www.DavisFamilyFuneralHome.com.