Warren K. Okeson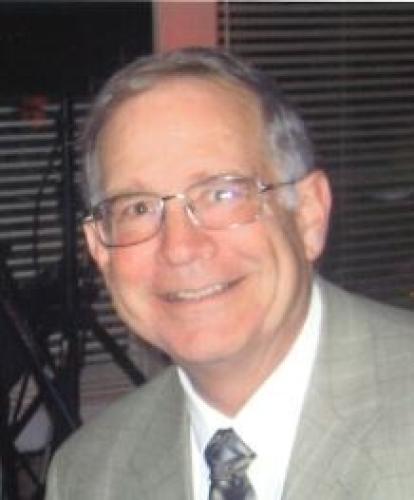 Warren K. Okeson passed away peacefully on December 16, 2021 at his home surrounded by his family.
A memorial service was held December 29, 2021 at Advent Lutherana Church, 11800 W. 151st St., Olathe, KS. Pastor Susan Langhauser and Pastor Anteneh Gebreselassie officiating. Burial with full military honors took place at 2:30 pm at Leavenworth National Cemetery, Leavenworth, KS.
Warren was born December 21, 1947 in Goodland, Kansas to Kenneth and Evelyn Okeson. He grew up in Weskan, KS and attended and graduated from Weskan High School. After graduation he attended Fort Hays State University for 2 years where he earned an associate's degree after which he joined the Marine Corps. After being discharged he enrolled in the telecommunications program at Northwest Kansas Technical School in Goodland, KS.
Warren started his telecommunications career with United Telephone Company in Junction City, KS which was later acquired by Sprint. He retired as a planning engineer in 2007 after 33 years.
After retirement from Sprint, Warren volunteered with Heart to Heart International in Olathe, KS driving the Mobile Medical Unit for several years all over the U.S. to major disasters. He (and Linda) were privileged to be guardians to 8 veterans on Heartland Honor Flights to Washington, D.C. Warren was very active in church activities and its building projects.
Warren loved being with his 3 great grandchildren and was looking forward to teaching them so many things. Many times when something was broken you would hear them say "Call Papa, he can fix anything."
Preceding him in death were his father and mother Kenneth and Evelyn Okeson, younger brother Clinton and stepdaughter Shelly Wahle.
Warren is survived by his loving wife of 47 years, Linda, stepson Mark (Sam) Wahle of Olathe, KS, granddaughter Nikki Barrett of Lawrence, KS, great grandchildren, Brooklyn, Brendan and Braysen Barrett of Lawrence, KS, brothers Don (Judy) Okeson of Weskan, KS, David (Diane) Okeson of Winfield, KS and Darrel (Connie) Okeson of Weskan, KS and several caring nieces and nephews.
Honorary pallbearers were Mark Wahle, Don Okeson, David Okeson, Darrel Okeson, John Seppie and Joe Robello.