Carl "Butch" O. Hapes Jr.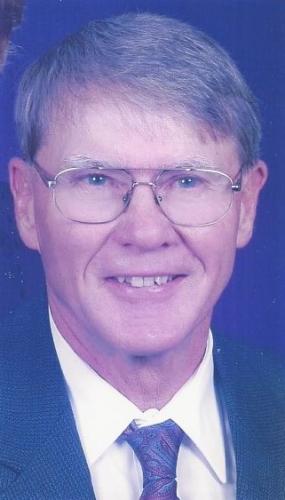 Carl Osmond Hapes Jr. who was affectionally called Butch was born on April 2, 1939 on Palm Sunday, to Mary Effie Hapes and Carl O. Hapes. He was the youngest of three children and the only son.
Butch attend Scared Heart Catholic School from the first grade through the tenth grade at which time he then began attending Cheyenne County High School, graduating in the class of 1957.
After graduating from High School, he attended Trindad State College on a football scholarship where he studied mechanics. After graduating he returned home and became a partner with his dad at Hapes Garage until retiring at the age of 78. Hapes Garage was a family run business from 1952-2017.
He married the love of his life, Nancy Haynie, on October 14, 1961 at Sacred Heart Church. Born to this union were three daughters Melanie, Dana, and Shanda, who were born and raised in Cheyenne Wells. His greatest joy was his family and having them all gathered together.
Butch was very involved in the community. He was a member of the Cheyenne Wells Trap Shooting Club, he was associated with Cheyenne Wells Volunteer Fire department for 61 years, a member of Sacred Heart Catholic Parish Council Board, a Cheyenne County Commissioner, a Cheyenne Wells City Council Member, and a Knights of Columbus Member. He and a partner founded C & L Sanitation and then later sold it to Sue and Bob Kern.
He departed this life on the morning of April 27, 2022. He was preceded into death by his parents Carl and Effie Hapes, his sisters, Donna Launders, and Bettie Hammer, and his daughter Dana Ball, and granddaughter Tatum Ball. He is survived by his wife Nancy Hapes, his daughter, Melanie and her husband Chris Hanavan, his daughter Shanda and her husband Danny Carroll, his grandchildren, Jessica and Josh Benedict, Hillary and Derek Ellis, Brittany and Stephen Anderson, Cory, and Heather Ball, Trevor and April Hanavan, Truett and Brooke Box, and his 13 great grandchildren, Graham, Reagan, Foster, Esme, Rowan, Haylie, Faith, Briley Jules, Athena, Danaleigh Korbin, Ledger, and Wren.
A Funeral Mass of Resurrection was celebrated at Sacred Heart Church in Cheyenne Wells withburial following at the Fairview Cemetery in Cheyenne Wells. The Cheyenne Wells Fire Department provided a full Fireman's Funeral. Memorial contributions should be made to the Cheyenne Wells Fire Department. Friends and family can register online condolences and sign the guestbook at www.brownfuneraldirectors.com. Funeral arrangements were entrusted to the care of the Brown Funeral Home in Cheyenne Wells.