Thanksgiving: It isn't all about the turkey!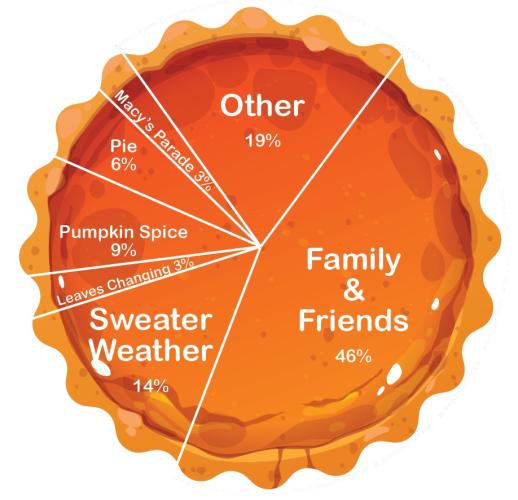 Recently the Wallace County Home Educators hosted an event called Friendsgiving. This event allowed the Homeschoolers to show friends and family what they had accomplished and learned
over the last semester including memorization of scripture, a
display of mummified chickens made during our monthly
homeschool groups, and even
a prayer spoken in Latin!
During Friendsgiving, we took a poll to see what people loved most about the season of Thanksgiving. Here are the results:
Of 35 people in attendance polled at Friendsgiving, a resounding 46% stated their favorite part of Thanksgiving is being with family and friends in
comparison to the ZERO who said they most looked forward to turkey!
Why is turkey losing favor? Is it often too dry? Are there just too many other yummy dishes served up along its side?
The bigger question, if this sampling is a true representative of everyone's opinion of turkey, how much longer will turkey be associated with Thanksgiving. Will you be serving turkey this Thanksgiving? If your family has grown tire of serving turkey, maybe it's time to start a family tradition. Afterall, a majority of us agree, family and friends are the most import part!
No matter what is on your table this year, we wish you a wonderful day surrounded by those who mean the most to you!